Since opening its doors in 2007, Boudreaux's Louisiana Kitchen has delighted Charlotte with authentic Cajun and Creole cuisine. This NODA fixture transports diners to the Big Easy with Southern hospitality, live music, and all the classics from jambalaya to beignets. For a true taste of Louisiana without leaving North Carolina, Boudreaux's hits the spot.
Boudreaux's Louisiana Kitchen: A Taste of Authentic Cajun Cuisine
Boudreaux's Louisiana Kitchen is a hidden gem in the culinary landscape, offering an authentic Cajun dining experience that rivals the delights of New Orleans. It's a place that surprises first-time visitors with its fantastic food and warm atmosphere. The restaurant's jambalaya, a classic Louisiana dish, is a standout, with customers praising it for its delightful combination of flavors and authentic taste.
Their menu also includes a variety of other dishes that showcase the rich and flavorful cuisine of Louisiana. The Country Shrimp & Grits, full of savory flavor, and the veggie omelet, a lighter yet equally delicious option, are among the favorites. Boudreaux's is also known for its unique brunch offerings, including the crowd-pleasing chicken and waffles, which many customers consider the best brunch plate.


Boudreaux's Louisiana Kitchen: Bringing the Spirit of NOLA Uptown
Stepping into Boudreaux's, patrons feel the festive spirit of New Orleans come to life. Strings of lights and Mardi Gras masks accent the interior's brick walls and exposed beams. Upbeat jazz, blues, and zydeco play over the chatter of diners. The bustling open kitchen provides a glimpse of dishes being freshly prepared.
Outside, the patio offers al fresco dining beneath market string lights. Whether seated indoors or out, Boudreaux's lively yet laidback energy evokes the Big Easy. Patrons find themselves saying "Laissez les bons temps rouler" – let the good times roll.
Authentic Louisiana Fare
While the vibe channels New Orleans, the food seals the deal on an authentic experience. Boudreaux's scratches any Cajun or Creole craving with specialties straight from Louisiana. The jambalaya packs traditional rice, spicy sausage, chicken, and shrimp in a deeply flavorful tomato-based stew.
Etouffées smother shrimp, crawfish, or chicken in a buttery browned roux punctuated by the "holy trinity" of onion, celery, and pepper. Po' boys overflow with fried seafood dressed with lettuce, tomato, and remoulade. Simply put, the food tastes like Louisiana.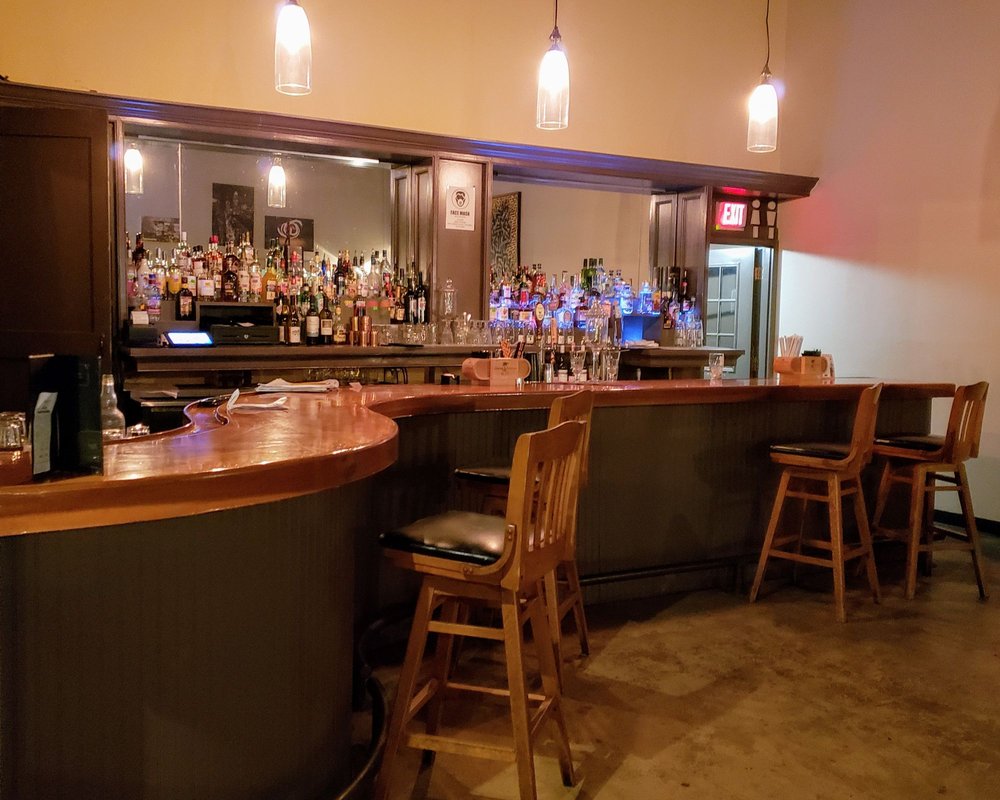 Cocktails with a NOLA Twist
In addition to iconic dishes, Boudreaux's offers Big Easy-inspired cocktails like the Hurricane and Sazerac. Their selections of infused vodkas and Louisiana beers provide local options. Of course, no meal ends without an order of hot, powdered beignets for dipping into rich coffee. Boudreaux's takes care of patrons' food and drink needs NOLA-style.
The Boudreaux's Experience: Food, Atmosphere, and More
Boudreaux's Louisiana Kitchen is not just about great food. It's a place that promises a unique dining experience, combining the rich flavors of Cajun cuisine with a relaxed, welcoming atmosphere. Customers have commended the restaurant for its attentive service, with staff going above and beyond to ensure a memorable dining experience.
The restaurant's vibe is another standout feature, offering a comfortable setting with an outside seating option for warm days. The music, while not everyone's favorite, adds a unique touch to the overall atmosphere, giving customers a feel of the Louisiana spirit.


Boudreaux's Louisiana Kitchen: Live Music Amping Up the Ambiance
Boudreaux's commitment to transportive dining includes live music performances adding to the festivities. Local bands visiting the restaurant provide upbeat tunes spanning zydeco, blues, jazz, and more. Performances occur during Sunday brunch and some weekend nights.
For special events like Mardi Gras, NFL Draft weekends, and crawfish boils, Boudreaux's pulls out all the stops on food, drinks, and entertainment. The toe-tapping music enhances the mood of revelry and community.
Boudreaux's Specialty Drinks: A Perfect Complement to Cajun Cuisine
What's a Cajun meal without a specialty drink to match? Boudreaux's Louisiana Kitchen offers a variety of homemade infused vodkas, perfect for their Bloody Marys. Also, their Sunday mimosa special is a hit among customers, providing the perfect end to a weekend.
Boudreaux's Louisiana Kitchen: Bringing True Louisiana Flavor to Charlotte
Since opening its doors, Boudreaux's has treated Charlotte to authentic Cajun and Creole cuisine and culture. From jambalaya to gumbo, po'boys to beignets, the dishes offer diners a true culinary trip to Louisiana. Friendly service in a festive, laidback setting heightens the experience.
On the restaurant scene for over fifteen years, Boudreaux's continues pleasing palates and transporting patrons. For a taste of NOLA without leaving the Queen City, this Cajun kitchen delivers.
A Commitment to Quality and Authenticity at Boudreaux's
Boudreaux's Louisiana Kitchen is committed to delivering quality and authenticity in every dish. Customers who have lived in Louisiana and are familiar with Cajun cuisine have praised Boudreaux's for its authentic taste. The restaurant's beignets, a classic New Orleans dessert, are said to be as good as those from the famous Cafe Du Monde.
The restaurant's dedication to quality extends to accommodating dietary restrictions, with customers appreciating their attention to food allergies. Whether it's the seafood gumbo, the bourbon pork chops, or the Cajun Carbonara, every dish promises a delightful culinary experience.
The Verdict
With comfort food classics, creative cocktails, and live music, Boudreaux's Louisiana Kitchen provides an immersive taste of New Orleans. Dishing up jambalaya, seafood platters, and more Cajun/Creole staples, the menu satisfies cravings. Beyond food and drink, the festive, welcoming ambiance channels the Big Easy. For Charlotteans missing Mardi Gras or curious about Louisiana cuisine, Boudreaux's brings the flavors and spirit of NOLA Uptown.
Conclusion
Boudreaux's Louisiana Kitchen is a Cajun culinary masterpiece, offering a unique dining experience to residents and visitors alike. The authentic taste of the food, the warm and welcoming atmosphere, the attentive service, and the specialty drinks all combine to create a dining experience that is truly memorable. It's a place that captures the spirit and flavors of Louisiana, bringing a piece of the Cajun culinary tradition to the heart of NODA. If you're in the area, don't miss the chance to experience the magic that is Boudreaux's Louisiana Kitchen.